Our next outing in Kenya will be on the KCB Safari Rally.The event takes place over 3 days, covers just over 500 km with 250 of those being competetive. The event is Kenya's round of the FIA African Rally Championship,as well as Round 5 of the KCB KNRC.
Just for a change, here's a picture of Richard Phillipson in action with Stefan Arndt on the Abingdon Carnival Rally. The change in temperature from Saturday in Nakuru to Sunday at Abingdon, was to say the least, 'marked'
Photo by Nick Bray
[I have also managed to load a lot of new photos in the albums, there are also pictures on Flickr & Facebook]
We are still managing to hold on to the lead in the Classic section of the Kenyan Championship despite a bit of under performance by the crew at Nakuru.
In fact we think we have actually increased our lead even though we only finished 3rd in the class. A lot more detail is available in the Event Reports together with the Honda's outing at Abingdon on Sunday.
So, at last, a points table for the Classics.
Gogi tops the Drivers Table, while Jas languishes in 2nd place in the Co-Drivers after missing the last round. He is back with us for the Nakuru round on the 8th of June.
2013- KCB CLASSIC CAR CUP STANDINGS AFTER VOI
DRIVERS
Hardev S. Sira 180
Ramesh Vishram 140
Aslam Khan 110
Iain Freestone 80
Rob Hellier 80
Samira Khan 70
Malcom Destro 50
Jonathan Somen 40

NAVIGATORS
Atul Kochhar 130
Jasneil S. Ghataure 120
Shakeel Khan 110
Rajay Sehmi 80
Tim Challen 80
Russell Savage 60
Simon Bates 50
Gurdeep Mehangra 50
Chantal Young 35
Richard Hechle 30
OK, so now Anwar has come up with a different take on the car.
Still no Escort picture but Anwar Sidi did catch some team supporters out on the stages. Their next chance to see the Escort in action will be on the Nakuru round of the KCB Championship on June 8th
photo by Anwar Sidi
James Shallcross took the Outright Win on last weekends Ilkley Classic Trial. A stunning result for the 205.
This photo is by Dave Cook
Well I don't seem to have a picture of the Escort yet, I'm sure someone will help out soon so I thought this would do instead. Despite loosing loads of time with a broken rear shock & a puncture on the final stage, Gogi still managed a brilliant 3rd in the Classic section, thus extending his lead in the Classic Category. A full report of The Voi Rally, 3rd round of this years KCB Championship can be found in event reports
Quite an incentive to get the car finished, as Gogi & Jasniel currently lead the Classic section of this years KBC Kenyan Rally Championship.
Pretty good result for Dave Dockree & Nick Davies on this weekends in Somerset Stages Rally. 55th overall, out of god knows how many entries & 5th class. And that's where it gets interesting as the top cars in the class were R2 spec Citroens & a Fiesta. So not bad for a 30year old motor.
Finally, Finally, the revised results from the weekend have been published & despite loosing about 7 minutes when the steering wheel came adrift 220 metres from the flying finish Gogi & Jasneil ended up 29th overall & 2nd in the Classic class behind Iain Freestone's Mk 2.
This might, leave us leading the class in the championship.
This is what Jasneil gets up to when he's not co-driving the Escort. Looks like masses of fun!!!!!!!!!.
A fairly drama free day for the crew on day 1 of the 2nd round of th KCB Championship. Gogi in action on the spectator stage before I ran out of space on my phone.
More details in the Event Reports
All the burning of the midnight oil, fitting his new engine, paid off for James Shallcross on last weekends Torbay Trial, as he manged to take the class win with his 205 .
The Escorts next outing will be on the weekend 6th/7th of April when we take part in round 2 of the Kenya National Rally Championship.
More details on the Forthcoming Bar.
OOPS Department!!!- seems I mucked up the picture settings so that they don't expand. I am going back through them & will get them all sorted in the fullness of time.
Normal service will be resumed soon.
Congratulations to Philip & Paul - New Record Holders
New World Record Set by Philip Young & Paul Brace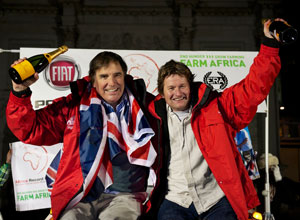 Philip Young and Paul Brace
At 5.30pm on Monday February 11th 2013 Philip Young and Paul Brace drove their Fiat Panda under Marble Arch at the end of their gruelling 10,000 mile drive from Cape Town to London shaving over a day off the previous best time ever achieved.
10 Days, 13 Hours, 30 Minutes
The Panda Pair claim two world driving records.
Cape Town to London – 14 days, 19 hrs, 26 mins– Set in 1983 by Brigadier John Hemsley & his wife Dr. Lucy Hemsley driving a Range Rover V8.
London – Cape Town (in either direction) – 11 days, 14 hrs, 11 mins – Set in 2010 by Mac MacKenney, Chris Rawlings & Steve MacKenney driving a Land Rover Td5.

FOLKSTONEUnited Kingdom - 11th Feb 16:00 GMT
The Panda has Landed. It was bound to happen... The channel tunnel trains were running late so the Panda Pair had to endure another delay before popping out of the tunnel in Folkstone at 16:05 GMT. All that remains is the final dash through the rush hour traffic to Marble Arch.
Bring a Union Jack... Marble Arch 6:00pm... Be there...
Latest record run news ...

APPROACHING MONT BLANCMont Blanc - 11th Feb 05:00 GMT
The Panda pair made excellent progress through the night and are now back on the original planned route, close to the Mont Blanc tunnel. They are ahead of their original schedule and coping well with some light snow cover.
Please keep checking back for updates on their ETA in London.
Your Invitation to the Finish Celebrations
Everyone is invited to Marble Arch – 5.30pm – Monday Feb 11th. Come and cheer Philip Young & Paul Brace when they drive their remarkable Fiat Panda under Marble Arch at the end of their epic 10,000 mile drive.
Keep checking the Latest News below for ETA updates.
Two world driving records are in their sights.
Cape Town to London – 14 days, 19 hrs, 26 mins – Set in 1983 by Brigadier John Hemsley & his wife Dr. Lucy Hemsley driving a Range Rover V8.
London – Cape Town (in either direction) – 11 days, 14 hrs, 11 mins – Set in 2010 by Mac MacKenney, Chris Rawlings & Steve MacKenney driving a Land Rover Td5.
******************************************
Looks like Citroen & Ford will have their work cut out if they want to stop VW taking the WRC Manufacturers Title this year.
It was never like this when we crossed borders but it just goes to show what a bit of co-operation can achieve
Philip & Paul still seem to be on schedule for their record.
Our class winner last weekend, Aslam Khan. Notice the landing gear is down.
Philip Young & Paul Brace are on an attempt to break the Cape Town to London record. They are using a Fiat Panda & you can follow their adventures Fiat Panda World Record Attempt.
Another of Anwar Sidi's event shots, loads of pictures of all the cars on Facebook for anyone who wants to see a bit of Rallying African Style.
Success for Gogi & Jasneil on the Kajiado Rally, opening round of the 2013 Kenyan National Rally Championship.
Top 20 & 2nd Classic for the Ti prepared Escort, despite a late scare when they were excluded for not having handed in their final time card. The organisers eventually found it on the floor under their desk. Nice one chaps.
So- we welcome a new era in WRC- we welcome VW & finally a new media package. Redbull are supposed to be the great media saviours.You might wonder why there is no sign of them on the WRC web site. So now, we have no TV coverage in the UK, Spain France, Italy or Greece. Oh! that's an improvement eh!, [I did think that TV coverage was available last year]. We have a timing system which can't deliver split times, we have the final stages cancelled due to crowd control.

At least some things have stayed the same.
Congratulations to Seb & Daniel on a pretty impressive performance for a pair of part timers..
Confirmed at last, our first outing in this years Kenyan National Rally Championship will be the KCB Nairobi event, which takes place at the end of the month, the 27th to be exact. As usual, scrutiny will be on the 26th with the event running on the Sunday.
Plans at the moment are to try to do 5 of the 8 rounds & finish the year doing the Classic Safari in November.
Happy
New
Year
It's that time of year again, when I do my bit for the enviroment
& the economy
Time also, to wish you all a Happy Christmas & a Prosperous New Year
This picture by Andreas Knausenberger catches Gogi & Jas in action on this weekends Guru Nanak Rally, the final round of this years Kenyan Championship
The team getting set for a photo shoot after the final test session for the Guru Nanak Rally on Sunday
Rally route for this weekends outing in the Escort
'Local' event for us, as we are based in Nairobi when we are in Kenya. Just got to make a 4245 mile trip to get there.
Sir Chris Hoy with Dani Sordo at Sweet Lamb during the making of the BBC's Racing Legends program about Colin McRae.
Star of the show was obviously Dave Dockree's Sunbeam Ti.
Great picture of Gogi & Jas in action at the weekend taken by Anwar Sidi
There are more pictures on the MRT Team Facebook page
2nd in class for the team at the end of the day
The MRT crew wait in the sun following the cancellation of stage 1 of the Eldoret Rally
The Escort drew quite a crowd when it made it's first appearance in it's new colours. Now part of The Multiple Racing Team.
This is the first outing for the car inThe the KRC.
Gogi will be co-driven by Kenyan Jasneil Ghataure.
Once again the team were complimented on the turn out of the car, always nice to hear.
Reports back from recce indicate some very rough sections & the top 5 drivers are currently trying to get the first 25k of stage 1, cancelled. Wimps.
Nothing what so ever to do with the rally, or, come to that preparation of the Escort but it was about 30 degrees & the mall shopping car park was packed, just like any other place, except that this is down town Nairobi & tomorrow we are off to test the Escort.
Looks like plans are about to change again. The new dates for the BRC rendering the previous post a bit of a non starter.
2013 MSA British Rally Championship calendar*
Round 1: 6/7 April – Rally North Wales, Welshpool, (Gravel)
Round 2: 4/5 May - Pirelli Rally, Carlisle, Cumbria (Gravel)
Round 3: 30 May /1 June - Jim Clark Rally, Duns, Scottish Borders (Asphalt)
Round 4: 29 June – Scottish Rally, Dumfries (Gravel)
Round 5: 23/24 August - Rally NI, Northern Ireland (Asphalt)
Round 6: 28/29 Sept - Rally Yorkshire, Scarborough, North Yorkshire (Gravel)
Round 7: 19 October – Rallye Sunseeker*, Bournemouth/Poole (Gravel)

Best 5 scores from 7 rounds to count. Rallye Sunseeker scores x 1.5 points.
It looks like Harry Sherrard, who we hope to have out in our 504 on the 2013 Rallye Sunseeker has been out playing at Goodwood. using a Sunbeam Rapier
Reports from Kenya indicate that our first event out there at the begining of next month, may well be a wet affair. The rally is based around Eldoret [300k NW of Nairobi] the roads are apparently very rough & they have had a great deal of rain. Deep Joy!!! or maybe 'Deep Mud'
It looks like our London Cape Town 504 will be joining the fray on the Rallye Sunseeker Historique on the 22/23 of Feb next year,the opening round of next years BRC, with Harry Sherrard at the wheel.
Harry previously used PUB our old Coupe some years ago & it seems that he fancies another go in something with a bit more character.
Plans for the Escort now seem to have been made, with 2 rallies this year. The first, The Asset Finance Rally, takes place on the weekend Oct 6th/7th and is based at Eldoret. The second is the Nairobi based Guru Nanak Rally, runs on the weekend November 17th/18th. Both are Kenyan Championship events.
The car is now based in Nairobi, so a few airmiles will no doubt get clocked up.
Huge congratulations are in order for 2 old customers. It would appear that when you stop rallying for a while, the interests wander.
Chris Hellings & Roger Mustoe have both become Dads.
Chris & Luci now have a son [Henry] Roger &Ali also had a boy [Ewan]
The mind boggles at the thought of little Hellings & Mustoes let loose on the world.
Ford ST [Self Turning] fails at Pugfest. One of the highlights of the day really.
Not unlike their WRC teams efforts.
We will once again enjoy a day out at this years Pugfest. Last year we took the 504 Coupe.
This year we had planned to take the Coupe & the saloon that we used on The London Cape Town Rally as well . Logistics have however conspired against us & instead of the Coupe, James Shallcross will take his trials car down. Wrong sort of hill to climb but so what.
There were some really trick motors there & for not a lot more than the entry fee, you can get to have a drive up the hill.
The event is on Sunday 1st of July
Back in 2006 we ran our Peugeot 504 Coupe for Peugeot Sport Sweden in the first running of the revived Midnight Sun Rally. Driver Gert Blomquist, then head of PTS Sweden decided to build his own V6 version.
Initially Gert & co driver Lena Lindberg had engine problems but they now seem to be sorted & they will be contesting this years event.
Finally, life can perhaps get back to normal after the disruption caused by the Escort build in Barking. With all the jobs ticked off, we could be said to be a little bit pleased to see the back of the car.
Today [Thurs 3rd] it is being loaded into the container, along with the pick up that we will use for chase/service, ready for the trip to Mombasa.

Tilly & Eliot had a close shave on Sundays Honington Stages Rally. A spin in front of the Escort causing a rise in the heart rate for yours truly
Two of a kind,the 205 Rallyes of Peter Gresford & Derek Looker.
Regular visitors to the workshop, Peter's runs on twin Webers, Derek's of course runs our development engines.

Contrary to popular belief, we are not entering the Lawn Mower racing field, we did, however have to modify the blade adjusters to enable proper ground effects to come into play.
Our landlord, another James, is about to give it a road test, I did offer to use Richard Phillipson's Honda to mow the grass, an offer he sadly declined.
James Shallcross got down & dirty on last weekends Torbay Classic Trial.
Despite leaving the handbrake on after a hill start & dropping points, he still managed another class win
Having requested some pictures of Martin with Jorma competing together & Jorma has obliged with these two.
Snow conditions look good & the sun is shining as well, what more could you ask for.
Derek Looker has been back to winning ways at this weekends Farnborough Auto Solo. Once again, taking class honours with our 1400 development engine in his Peugeot 205.We hope to have his latest engine improvements fitted before his next event


Martin Head, remember him, won the 1400 Championship with us in a very quick MG ZR.
Well, he has been out co driving for Finnish star Jorma Pekkanen, in another ZR
At the weekend the pair took Overall victory on the latest round of the Finnish F-Cup Championship, so congratulations are in order.
Nice to see an English co-driver out with the Finns
James Shallcross had another great run on last weekends Northern classic Trial, 7th O/A & 1st in class
I think for all the crews involved the finish in Cape Town was something that couldn't come soon enough.With the final outcome still not resolved on the final morning I don't think Philip could have asked for any more.
Over the next few days I will fill in some of the details, some of the incidents, highs & lows of our trip

.
They will be under the London Cape Town Diary tab, there are also a load of photos in the London Cape Town / World Cup Album

Congratulations are in order again, James Shallcross taking a class win at the weekend on the Tamar Classic Relaiability Trial in the Peugeot 205. The win keeps him in with a chance of the class championship with just 2 rounds remaining.
Jersey beckons for the Edmunds family, with Dave taking his 2 litre Civic & son Chris, the 1600 version. We could be looking for a couple of class awards.
Chris will probably need no "Egging On" & Dave, who has been there, done that, might.
Keep up witht he event on

EUROSPORT

who are covering the event

Zarene Dallas took her first award on last weekends Patriot Stages Rally. Zarene who was driving our 1800 MG ZR overcame an early scare, when the car got a touch warm in the queue for scrutineering, to take the Lady Driver award on the final stage of the day.
It's congratulations time again with both Derek Looker & James Shallcross coming away from their events with class awards. Neither could make it a class win however, so bridesmaids again
.
Reports on sidebar
Time is ticking away to the start of the 2012 World Cup Rally. The organisers are away rechecking some parts of the routes, meanwhile we are frantically trying to make up for lost time.
It's time for us to say good bye to James Murphy, as he starts his full time employment with the National Grid in a couple of weeks time. We have had a great time together & wish him all the very best in his new career.
PUB joins a very distinguished line up at this years Pugfest. Next door is the 205 T16 of Juha Kankkunen, the Ari Vatanen 405 T16 GR, & Guy Wilks S2000 car
Held at Prescott Hill Climb venue nr Cheltenham it is the largest Peugeot meeting in the country.
The car is currently for sale & details can be found elsewhere on the site.

Congratulations to Derek Looker who used his new Ti engine to take a class win at the Farnborough & District MC AutoSolo at the weekend.
Weighing in at over 175 tonnes this stylised E Type Jag was just one of the star attractions at Goodwood. Our photo album covers some of what was on offer.
The Flying Scotsman
David Williams & wife Sadie tackle the early stages of this years Flying Scotsman Rally for Vintage cars, in this case his model T Ford. The event started at Brooklands & ends in Edinburgh on the Sunday 3rd of April.

Maiden Overall Win for James Shallcross.
Yes, James has finally broken his duck & scored his first outright win on Saturdays Northern Classic Trial. The long trail up to the Lake District proving very worthwhile.

Richard Phillipson has just finished the Hail Rally, codriving for Ian Barker in a 6 lit,GM engined Nissan Patrol. "Cars" seen at the start of the event. Richard's report of his adventure into desert rallying appear under Event Reports

Mini's taking part in the 2011 London
New Years Day Parade
We would like to wish you all, The
Very Best Wishes for the New Year
January 5th ENTRIES OPEN !!!!!
Congratulations to Derek Looker who has won the Class D section on this years Southern Tarmac Autotest Championship. The Steve Redsell Cup going to the up to 1400cc Champion
This weekend will also be make or break on the Cotswolds 12 car Championship where a win for Derek will secure that prize as well.
Just one of around 2000 bikes taking part in Reading's annual 'Toy Run' last Sunday [5th Dec] .Congratulations to the 2 wheel brigade who put on a fabulous show. There are a load of pictures in the Toy Run album
Peugeot 205 1400cc 4 branch Manifolds back in stock
.


We also have a suitable 3 piece system to go with it.


Congratulations to James Shallcross on a long overdue win on last weekends Bovey Down Classic trial.
Not content with the class, he grabbed overall victory as well.
Makes all the hard work that has gone into detail changes to the car worthwhile.
No doubt a report will appear in due course

Belated picture of Gogi & Denis in action photo by Geoff Mayes Media
Ian Duncan's Mustang takes the honours in this years East African Safari Rally after a classic battle with Bjorn Waldegard.
Our crew faired less well, electrical gremlins wrecking our event. All the horrid details on the safari bar.
Its been 2 years in the making & now all the planning & preparation by organisers,preparation companies & competitors alike is over & it's time to get down to the serious business of rallying in Kenya. Hopefully there will be daily updates on the Safari Bar
The 2009 East African Safari Rally will get underway this weekend.
We hope to be able to bring you daily updates and while we will be concentrating on our own team we will try to bring snippets from the rest of the competitors.
Gogi is already in Kenya & will be joined tomorrow by Monsieur Giraudet, Andy & myself leave Heathrow tomorrow evening & will be in Mombasa on Thursday morning.
Let the adventure begin
Safari co-driver Denis Giraudet on his way to victory. Following the disappointment on Wales Rally GB, Denis partnered by Jean-Francois Mourgues stormed to victory in the Peugeot 307WRC on the penultimate round of the French Championship. Next outing will be in Kenya
Congratulations are in order for James Shallcross who managed a Gold Medal on the recent Edinburgh Trial. This for cleaning all the hills on the trial. James finished 2nd in class once again losing out in the timed tests.
Commiserations to our Safari co-driver, Denis Giraudet who was out in the works Skoda S2000 with Edvind Brynildsen on the Cambrian Rally as a shakedown for Wales Rally GB. Rear wishbone failure on the final stage when lying 3rd overall was a bit gutting.
Ti would like to welcome Quattro Project Solutionsas the first of the Team Ti sponsors. The company logos will now feature on all our cars and they are helping in our Safari preparations. The company will be profiled in our first newsletter. Company principal Tim Warburton has been known to have the odd outing in a rally car and will use the Ti MG ZR for selected events next year.
WRC co-driver Denis Giraudet will join the team for this years Safari Rally.
Denis has done the event 5 times before when it was part of the World Rally Championship, finishing 2nd in 1999 with Didier Auriol in the works Toyota Corolla.
There is a link to his profile [which is MEGA] on the Safari bar.
These pictures by Sunil Tohaniwere taken at Gogi's local Ford dealership prior to shipping for Mombasa.
We are currently still looking for a suitable co-driver but otherwise the team is now complete
*************************************
This weekend sees the start of the Trials season & James Shallcross will be making his way down to Exeter for the Torbay Trial to give his new engine its first competitive outing.